Upcoming Events
Christmas Greetings for the Chest 2021
2021-12
INTRODUCTION
Fill this Christmas with Joy of Giving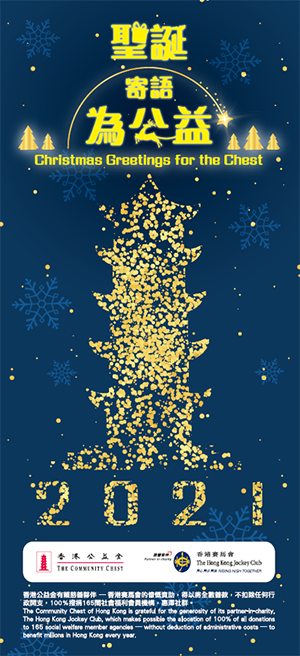 In 2021/22, The Community Chest of Hong Kong will need to allocate over HK$21 million to support nineteen social welfare member agencies in providing multi-dimensional "Elderly Services" including occupational therapy & physiotherapy, dementia service and day care centre etc. to meet their respective needs and to enable them enjoy good health.
This coming Christmas – you may want to send your greetings and well-wishes to business associates, friends and relatives through our "Christmas Greetings for the Chest" programme. By making a donation to the Chest, you / your Company will be offered an acknowledgment space in Ming Pao where your greetings will be seen by thousands of readers. All proceeds raised from this programme will be allocated to services as mentioned above.
For over fifty years, the Community Chest continues striving its best to raise funds for social welfare member agencies to help thousands of less privileged in our society. Look forward to having your indispensable support to our work.
Online Enrolment
| | | |
| --- | --- | --- |
| Deadline | : | 22 November 2021 |
| Enquiry | : | 2599 6111 |
| Chest office | : | Unit 1805, 18/F, Harcourt House, 39 Gloucester Road, Wanchai, Hong Kong |
Back