Upcoming Events
2023-3-17
To benefit "Services for Street Sleepers, Residents in Cage Homes and Cubicles" supported by The Community Chest
INTRODUCTION
The forthcoming Skip Lunch Day will be held on Friday, 17 March 2023 to encourage the participants to donate their lunch fees to support the needy. By making a donation of HK$38 or more, each donor will receive a Skip Lunch Day coupon as a token of appreciation. Holder of the coupon (paper version) can redeem ONE of the following items at any Hung Fook Tong outlets in Hong Kong from 17 March to 30 April 2023: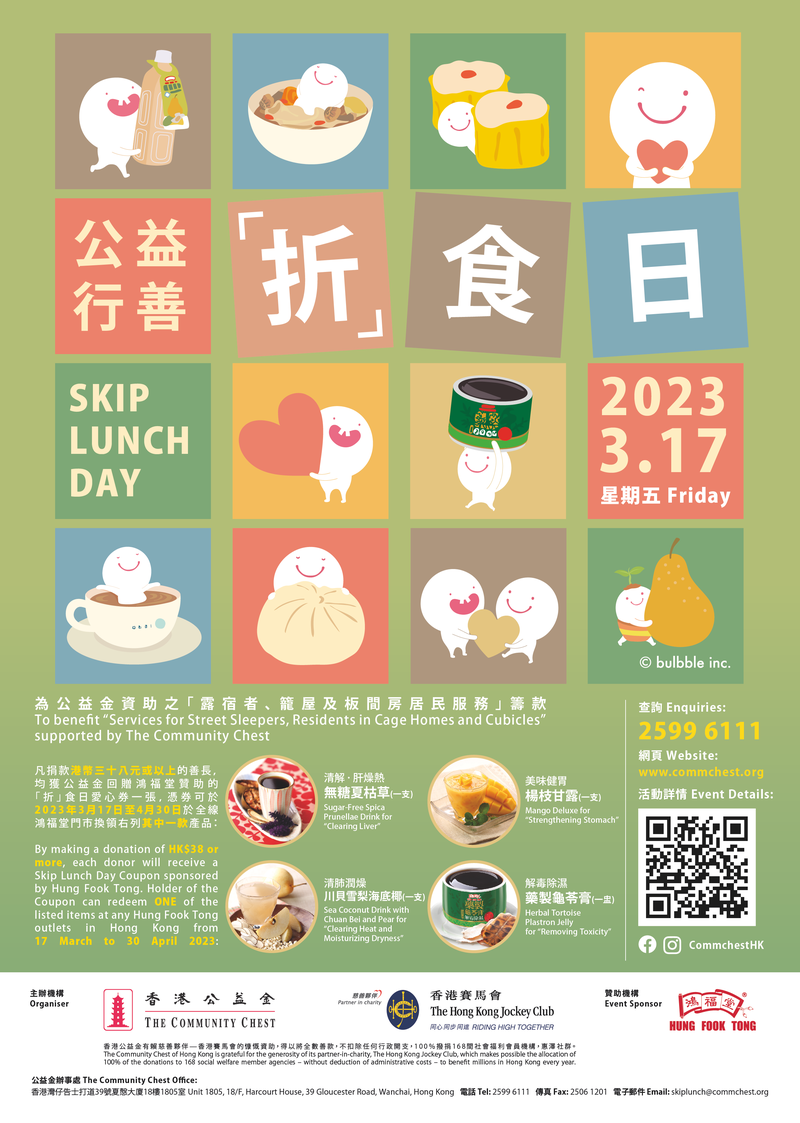 Sugar-Free Spica Prunellae Drink for "Clearing Liver"
Sea Coconut Drink with Chuan Bei and Pear for "Clearing Heat and Moisturizing Dryness"
Mango Deluxe for "Strengthening Stomach"
Herbal Tortoise Plastron Jelly for "Removing Toxicity"
Besides, each donor will also receive below discount offers from 17 March to 30 April 2023:
Present the discount coupon to enjoy Organic Chicken Essence for "Strengthening" (5 packs) (valued at $265/box) buy one get one free offer at original price at any Hung Fook Tong outlet in Hong Kong.
Present the discount coupon to enjoy a free Americano (12 oz hot drink or 16 oz cold drink) for purchase of any bread item (valued at HK$28 or above) or Japanese Cake Series (valued at HK$160 – HK$170) at HFT Life shops* in Hong Kong
*Except Mong Kok East Station shop
Participants could also consider donating their coupons to the less fortunate via the Chest's social welfare member agencies.
Skip Lunch Day coupons will be distributed on a first-come, first-served basis while stocks last. Do sign up now for a meaningful cause.
Online Enrolment (Organisation) / Online Enrolment (Individual)
Download Organisation's Reply Form
Back