Press Releases
The Community Chest 51st Annual General Meeting Rides Out Challenges to Support the Needy in Solidarity with Hong Kong
2020-06-22
At the Community Chest 51st Annual General Meeting held today (June 22), President Mr Charles Y K Lee remarked that 2019/2020 was a very challenging year for the Chest. He gave his heartfelt gratitude to board and committees, charity partners, donors and member agencies for their efforts and contributions in helping the needy in time of adversity.
Rocked by the coronavirus outbreak in early 2020, the Chest swiftly set up the Anti-NCP Rainbow Fund in mid-February to provide immediate financial assistance to individuals and families inflicted by the pandemic. Over the past four months, over HK$47 million has been allocated to support nearly 17,000 beneficiaries. With the generous donation from a long-term corporate donor, the Chest distributed anti-virus care kits to the underprivileged and hygiene products to Hospital Authority staff, and provided financial aids to a number of individuals diagnosed with the virus and families of the deceased.
Despite the gloom, the Chest was able to fulfill its allocations commitment to member agencies. Over HK$310 million has been allocated to 165 member agencies in 2019/2020 to meet the imminent needs of the community. In addition to funding ongoing services in 2020/2021, over HK$39.7 million would be allocated to 12 Time Limited Projects (Attachment I). In terms of agency admission, the Chest welcomed two new members: Food for Good Limited - Tung Tau Community Kitchen Hot Meal Service project which prepares hot meals for the needy; and SVHK Foundation Limited - Hong Kong New Urban project which is an initiative for social innovators to redefine the meaning of modern urban living by fostering mindset, lifestyle and/or ecosystem changes.
In 2019/2020, the Rainbow Fund allocated over HK$12.6 million to more than 4,000 beneficiaries, out of which more than HK$1.75 million was allocated to families of victims from fatal accidents. The fund aims to provide immediate financial aid to people in emergency situations and financial crisis.
On the same occasion, twelve members were elected to the 2020/2021 Board of Directors (Attachment II). After the meeting, Mr Charles Y K Lee expressed his gratitude to six retiring Board Members: Mr T C Chan, Mr Lawrence Cheung, Dr Edward W Y Cheung, Dr Peter K L Chu, Mr Peter T S Wong and Mr Wong Ting-chung for their contributions to the Chest.
- End -
Photo: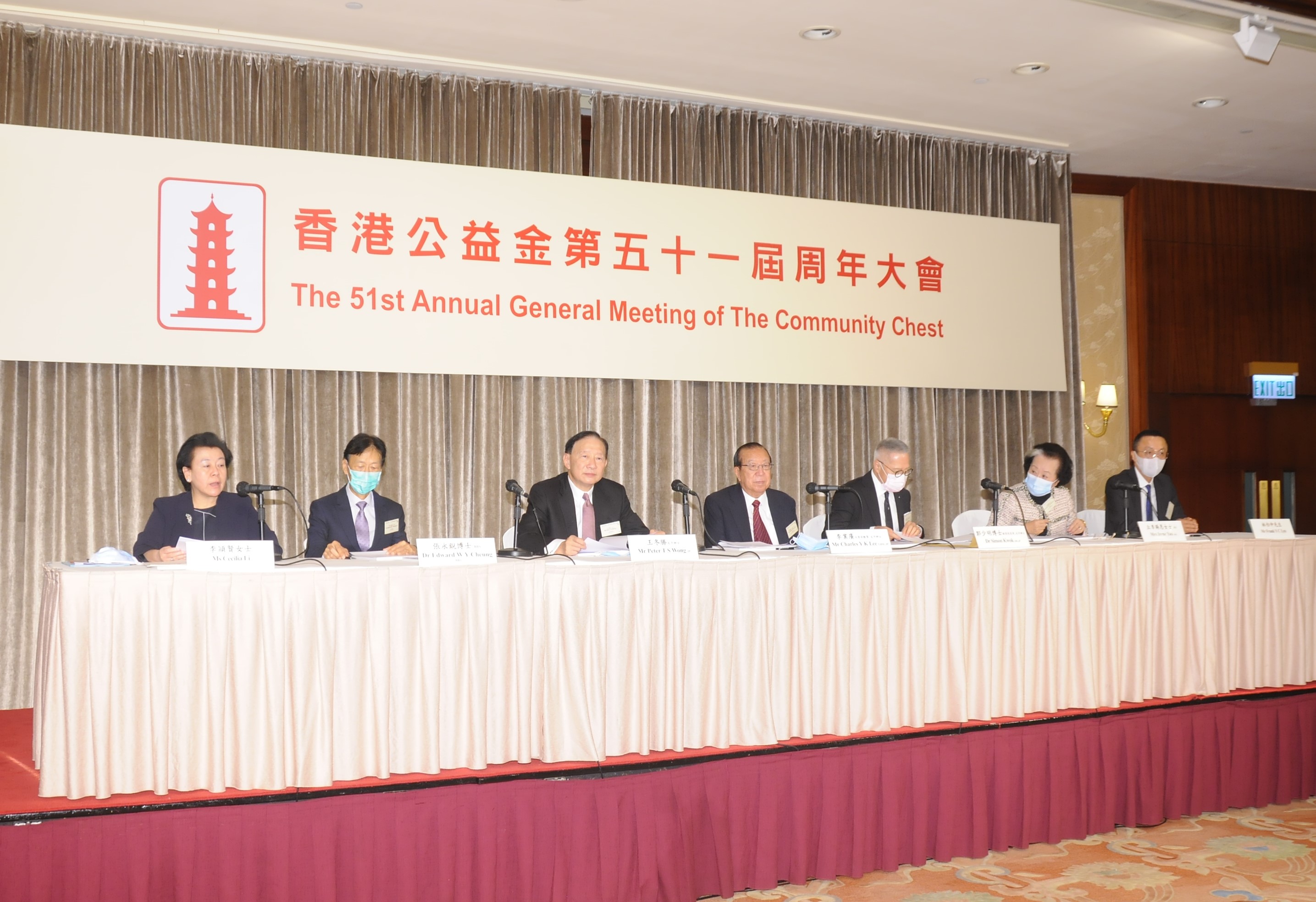 The Community Chest President Mr Charles Y K Lee (4th left) hosted the 51st Annual General Meeting with Executive Committee Chairman Mr Peter T S Wong (3rd left), Campaign Committee Chairman Dr Simon Kwok (3rd right), Public Relations Committee Chairman Mrs Irene Yau (2nd right), Admissions, Budgets and Allocations Committee Chairman Dr Edward W Y Cheung (2nd left), Treasurer Mr Frank Y C Lyn (1st right) and Secretary of the Board Ms Cecilia Li (1st left).
Attachment I:
2020/2021 Time Limited Projects

Names of Member Agencies

Project Names

The following projects will be supported for 2 years:

1.

Barnabas Charitable Service Association Limited

The Project of V-UP Volunteers Level Up Network

2.

Christian and Missionary Alliance Church Union Hong Kong Limited

360 Neighbourhood Wellness Service for the Elderly

3.

Church of United Brethren in Christ, Social Service Division, The

Hands-in-Hands Supporting the Caregivers on Handling SEN Children (Phase 2)

4.

Hong Kong PHAB Association

"Project B.R.I.G.H.T" - Mental Health Counselling & Supporting Service for Youth with Special Educational Needs (SEN) (Phase 2)

5.

Project Concern Hong Kong

Pain Release Management for the Underprivileged

6.

Suicide Prevention Services Limited

STAND BY YOU – Family Support for Elderly Mental Health

7.

Suicide Prevention Services Limited

Project BLESS (Befriending Service for Lighting Up and Empowering Survivors of Suicide)

The following projects will be supported for 3 years:

8.

Baptist Oi Kwan Social Service

Employment Supporting Service for ADHD

9.

Baptist Oi Kwan Social Service

CARE College

10.

Salvation Army, The

"Love-athon@Home" (Enhancement Project Supporting Children from Divorced families encountered Single Parental or Parental Absence)

11.

Salvation Army, The

My Way of Life

12.

St. James' Settlement

3C Project (Community Collaborative Care for Mental Health Project)
Total allocation amounted to over HK$39.7 million.
Attachment II:
2020/2021 Board of Directors Nominees

1.

Mr Chao Pak Ki, Raymund

Chairman, Asia Pacific & Chairman and CEO, China, PricewaterhouseCoopers

2.

Sir Chow Chung Kong, GBS, JP

Chairman, Urban Renewal Authority

3.

Mr Ho Yau Lung, Lawrence

Chairman & CEO, Melco International Development Ltd

4.

Mr Kong Churk Hoi, Billy, BBS, MH, JP

Senior Partner, Fairbairn Catley Low & Kong

5.

Dr Eddie Kwan, JP

Chairman, EK International Holdings Limited

6.

Mr Lee Yeh Kwong, Charles, GBM, JP

Consultant, Woo Kwan Lee & Lo

7.

Mr Gordon Leung Chung-tai, JP

Director of Social Welfare, Social Welfare Department

8.

Mr Li Man Kiu, Adrian, JP

Co-Chief Executive, The Bank of East Asia, Limited

9.

Mr Ng Win Kong, Daryl, JP

Deputy Chairman, Sino Group

10.

Mr James Tong

Director Public Affairs, John Swire & Sons (H.K.) Ltd.

11.

Mr Wu Wei Kuo, Michael

Chairman & Managing Director, Maxim's Caterers Ltd.

12.

Mr Yang Chuen Liang, Charles, BBS, JP

HKICPA / Chartered Accountant, S Y Yang & Company
Back