Press Releases
Hongkongers' Spirit of Giving Allows Community Chest To Make an Important Difference Amid Challenging Times
2021-06-29
Set against a relentless pandemic and a difficult economic climate, the 2020/2021 campaign year was particularly challenging for The Community Chest of Hong Kong (the Chest). Against all odds, the Chest managed to raise nearly HK$325 million – beating the initial target of HK$248 million by 31 per cent.
"This incredible amount not only allowed us to fulfil our funding commitments to the 165 member agencies but also stood as a testament to Hongkongers' unwavering spirit of caring," Mr Charles Lee, President of the Chest, said at the organisation's 52nd Annual General Meeting, which was held today (29 June).
Over HK$400 million has been allocated in the current year to fund various social welfare services, initiatives and special funds with designated purposes. The shortfall between the allocations and donations raised would be drawn from the Chest's donation reserve to ensure uninterrupted services to the community.
Over the years, the Chest has also strengthened its position as a funder in taking a more proactive approach to identify and address imminent social needs. As such, the Community Chest Social Innovation Fund was set up in 2020 to encourage member agencies to collaborate and innovate with the Chest in serving the community.
Amid a raging pandemic that lasted for over a year, the Chest, through the Community Chest Anti-Coronavirus Rainbow Fund and by working closely with 29 partner agencies, disbursed nearly HK$66.8 million to more than 24,300 people during the first two rounds of applications in 2020. Due to the ongoing pandemic, the fund reopened for another round of applications in April this year to support those who face unemployment and underemployment.
Twenty-three members were elected to the Board of Directors (Attachment I) at the AGM. Mr Lee also took the opportunity to express his appreciation to the seven retiring Board members: Ms Louisa Cheang, Mr Winfried Engelbrecht-Bresges, Mrs Ann Kung, Mr Adam Kwok, Mr Frank Lyn, Mr Vernon Moore and Mrs Irene Yau.
- End -
Photo: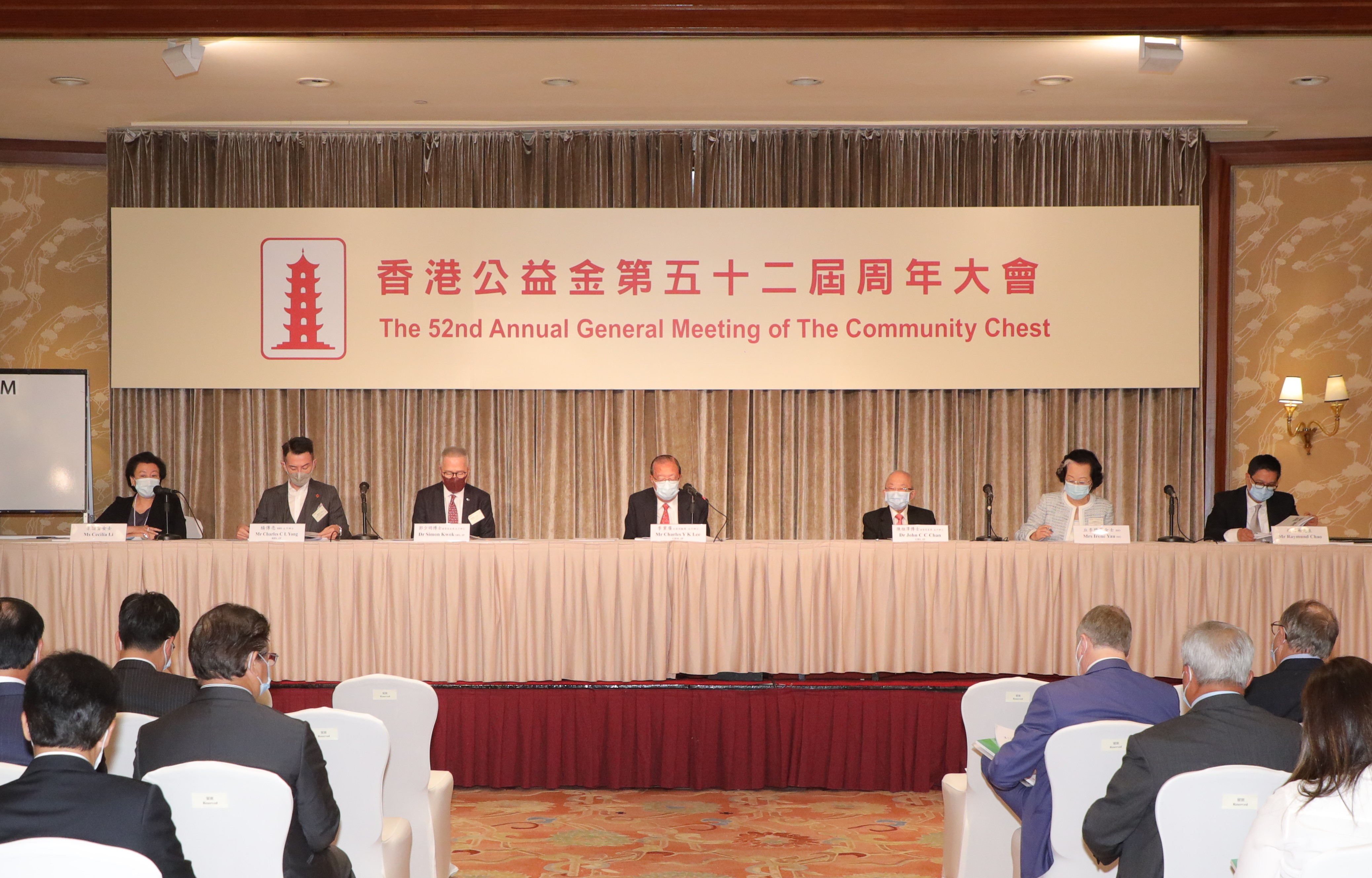 The Community Chest President Mr Charles Y K Lee (4th left) chairs the 52nd Annual General Meeting with Executive Committee Chairman Dr Simon Kwok (3rd left), 2020/2021 Campaign Committee Chairman Dr John Chan (3rd right), Public Relations Committee Chairman Mrs Irene Yau (2nd right), Admissions, Budgets and Allocations Committee Chairman Mr Charles Yang (2nd left), Treasurer Mr Raymund Chao (1st right) and Secretary of the Board Ms Cecilia Li (1st left).
Attachment I:
2021/2022 Board of Directors Elected at the 52nd Annual General Meeting

1.

Ms Diana Cesar

Group General Manager, HSBC
Chief Executive Officer Hong Kong, The Hongkong and Shanghai Banking Corporation Limited

2.

Mrs Laura Cha, GBM, GBS, JP

Chairman, Hong Kong Exchanges and Clearing Limited

3.

The Hon Bernard Charnwut Chan, GBM, GBS, JP

President, Asia Financial Holdings Limited

4.

Dr John C C Chan, GBS, JP

Independent Non-executive Director and Deputy Chairman, Transport International Holdings Limited

5.

Mr Chan Man, Stephen

General Manager of Personal Banking and Wealth Management Department, Bank of China (Hong Kong) Limited

6.

Mr T C Chan, BBS, JP

Senior Adviser, The Bank of East Asia, Limited

7.

Dr Edward W Y Cheung, BBS

Consultant, Woo Kwan Lee & Lo

8.

Mr Lawrence Cheung, MH, JP

Chairman & Managing Director, Lawrence Cheung C.P.A. Company Limited

9.

Ms Chiu Wing Kwan, Winnie, JP

President & Executive Director, Dorsett Hospitality International

10.

Dr Peter K L Chu, BBS

President, Alpha Appliances Limited

11.

Dr David J Harilela

Chief Executive Officer, David Harilela Group
Director, Harilela Hotels Limited

12.

Ms Mary Huen

Executive Director and Chief Executive Officer, Hong Kong Cluster CEO, Hong Kong, Taiwan & Macau, Standard Chartered Bank (Hong Kong) Limited

13.

Dr Jacob Kam Chak Pui

Chief Executive Officer, MTR Corporation Limited

14.

Mr Donald Lam

Head of Commercial Banking, Hang Seng Bank Limited

15.

Mr Lionel Lam Kin, PDSM, CPM

Chairman & CEO, Perfect Balance (HK) Limited

16.

Mr Lincoln Leong, JP

Director, Lincoln Leong Continuation Limited

17.

Mr Simon Man

Executive Committee Member & General Manager, Accounts Department, CK Asset Holdings Limited

18.

Ms Angel Ng

Chief Executive Officer, Citi Hong Kong and Macau, Citibank, N.A.

19.

Mr Peter H Pang, JP

Chairman, Chang Win Garment Manufacturing Company Limited

20.

Mr Pong Kin Yee, Paulo, JP

Managing Director, Altaya Group International Limited

21.

Mr Tam Chi Yuen, Raymond, GBS, JP

Executive Director, Corporate Affairs, The Hong Kong Jockey Club

22.

Mr Stan Tang

Chairman, Stan Group (Holdings) Limited

23.

Mr Wong Ting Chung, BBS, JP

Founder, Nameson Holdings Limited
Back